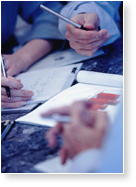 Through consulting services, Clem Bowman is making available a wealth of experience and innovative thinking - the kind of thinking that led to ProGrid.
CONSULTING
As a consultant to organizations of all sizes, Dr. Bowman brings a unique insight and understanding of the challenges inherent in evaluating opportunities, risks or performance. His work has led to successful commercialization of major new technologies and to significant improvements in the practices of technology-intensive organizations.
Below is list of previous projects undertaken by Clement W. Bowman Consulting Inc., for your perusal.