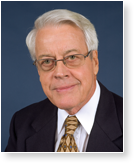 Dr. C.W. Bowman
C.M., PhD., P.Eng., FCIC, FCAE
---
Researcher, manager, collaborator: Clem Bowman has an impressive track record of bringing innovation to the marketplace.
ABOUT DR. BOWMAN
Clem Bowman's extensive work as a researcher and research manager includes a variety of high-level appointments in the energy and environmental sectors, both at the government and corporate levels.
As co-founder of ProGrid Ventures Inc. Dr. Bowman continues to work to share a world of knowledge and experience in the commercialization of technology. ProGrid's tools for evaluating intellectual capital are being used by venture capitalists and with a growing list of more than 20 major Canadian scientific and technical organizations.
Dr. Bowman's career highlights include being:
Chair of the Alberta Government's Technology and Research Advisory Committee (where he coordinated the technology efforts of some 14 government departments and agencies)
President of the Alberta Research Council, a government-owned applied research and development corporation that develops and commercializes technology to grow innovative enterprises. Dr. Bowman oversaw a quadrupling of non-government contract revenues from $5 million per year to $20 million annually.
Vice-President responsible for the Research Centre at Esso Petroleum Canada, Sarnia, Ontario. Various assignments with the Esso/Exxon organization involved coordinating worldwide technology programs.
Founding chairman of the Alberta Oil Sands Technology and Research Authority (AOSTRA), a crown corporation of the Alberta Government. Under Dr. Bowman's leadership, AOSTRA established joint projects with major international petroleum companies to recover bitumen from the deeply buried tar sand deposits in Western Canada (many of which have since been commercialized). Agreements were negotiated and executed technology agreements with organizations in Venezuela, Madagascar, Turkey, Germany, China, Japan and the United States.
For these technology contributions, Dr. Bowman has received a number of awards.