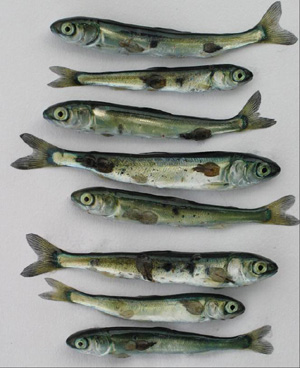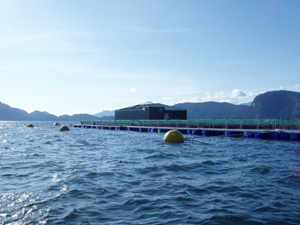 Photo credits: Alexandra Morton (top), Brendan Connors (bottom). Click on photo for larger picture.
Marine salmon farming has been associated with parasitic sea lice infestations and concurrent declines of wild salmon populations in Europe and Canada. Effective protection of wild salmon populations requires a detailed understanding of how salmon farms affect the dynamics of natural lice-salmon systems. There are two components to understanding this relationship:
(1) Quantifying the transmission of lice from farm salmon to out-migrating juvenile salmon; and
(2) Quantifying the mortality rates of juvenile salmon due to sea lice.
Here, at the Centre for Mathematical Biology, we are developing mathematical and statistical models that are complemented by intensive field research being conducted in the Broughton Archipelago, BC. Together with John Volpe at the University of Victoria these models and data are being brought together to yield new insights into how the farm salmon-wild salmon-sea lice system works and move towards ecologically sustainable solutions.
Below there are links to information on our recent publication in the leading scientific journal Proceedings of the Royal Society of London. This paper presents a thorough quantitative analysis of the transmission dynamics of sea lice from farm to wild juvenile pink and chum salmon, making substantial headway on point (1) above.